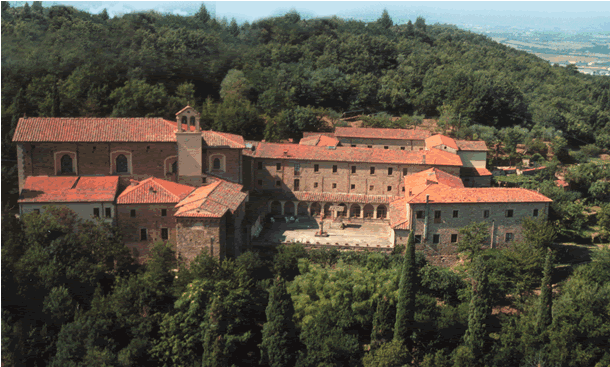 The ancient Monastery of Sargiano, located 400 meters above sea level on the northern slopes of Mount Lignano, in the Aretine hills, just 2 km from the city of Arezzo, houses Man Center's main headquarters.
Founded in 1405 by St. Bernardino of Siena (1380-1444), its walls welcomed, among others, George VII of England and later, in 1936, Pope John XXIII (at that time Mons. Angelo Roncalli).
Since April 1999 the building, along with the surrounding woods, has been entrusted by the Order of Friars Minor of stigmatized St. Francis to the care of Man Center, where it transferred its headquarters.
Since then the Sargiano complex has witnessed the Association's many activities, including three editions of the World Conference for the Peace and Welfare of Peoples, meetings, conferences and seminars.
The surrounding Sargiano Woods, bounded by the walls of the Franciscan complex, are a Protected Natural Area of Local Interest extending for more than 9 hectares: an oasis of peace and a real ecosystem, featuring a particularly rich and varied flora, with many oak trees, a rather unusual species in Tuscany, 25 different pairs of birds, mammals, such as porcupines, squirrels, wild boar and roe deer, and numerous types of butterflies.
Here Man Center holds traditional Easter marches in favor of environmental protection and non-violence, an event attracting many participants from both Italy and abroad.
Inside the monastery, in the main cloister, there is a noteworthy fresco of "Jesus Served by Angels in the Desert" by Giovanni Mannozzi, better known as Giovanni da San Giovanni (1592-1636), and the Crucifix of the 17th-18th century in the Church.
Click on the images to enlarge them.