Monastery of Sargiano (Arezzo), August 1999
The first Ecumenical World Conference for the Peace and Welfare of Peoples, under the auspices of the Presidency of the Council of Ministers and the Ministry of Foreign Affairs of Italy, took place at the historic Monastery of Sargiano and was chaired by Pier Franco Marcenaro.
The event was attended by delegates from all over the world and from different cultural and religious traditions, who together analyzed the issues concerning the many conflicts, marginalization, poverty and environmental deterioration of which our planet is currently suffering in order to find a way to peace and welfare for all mankind, through the rebirth of the highest ethical and spiritual values.
At the end of the meeting, they resolved to found the World Ecumenical Center (now the World Interreligious Center) to carry on the work outlined during the Conference.
They also drafted a Final Report of the Conference, which was handed over to the heads of government of the world's major nations.
Click on the images and articles below to enlarge them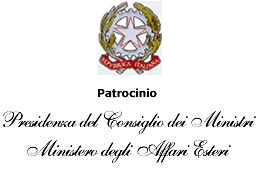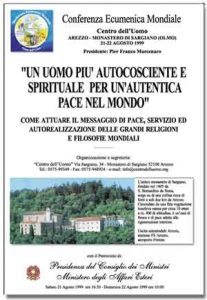 SOME MOMENTS OF THE CONFERENCE
FINAL REPORT
The key points of the Final Report, the document drawn up and signed at the end of the Conference by 20 members of foreign nations and 30 Italian members, subsequently presented to the heads of government of the world's major nations, are the following:
I. Man's spiritual and moral improvement is a high income investment
II. Dialog between cultures creates welfare and peace
III. The appreciation of marginalized people is a valuable resource
IV. Respect and appreciation of nature: inexhaustible wealth
V. Allocation of funds to deserving projects and institutions
VI. Final considerations
THE FOLLOWING ITALIAN AND FOREIGN NEWSPAPERS HAVE TALKED ABOUT THIS EVENT: